Share this
Our 616 Eco-Fresh is the cheaper alternative to Baywest`s 2 ply toilet tissue.
Do you want to know more? We have proven savings in excess of 20% with our existing customers.
Our Eco Fresh Paper works better than the Baywest Revolution Toilet Roll Dispenser and older style wagon wheel dispenser.
Our Eco-Fresh Toilet Paper is made from 100% pure virgin toilet tissue that comes from FSC managed Forests. At 80 meters long it is 10% longer than the Baywest Toilet Roll.
Many manufacturers insist on sheet count being important when selling you toilet paper. Ours is 800 sheets per roll as opposed to the Baywest system which is 625 sheets per roll.
Below is a Comparison Guide: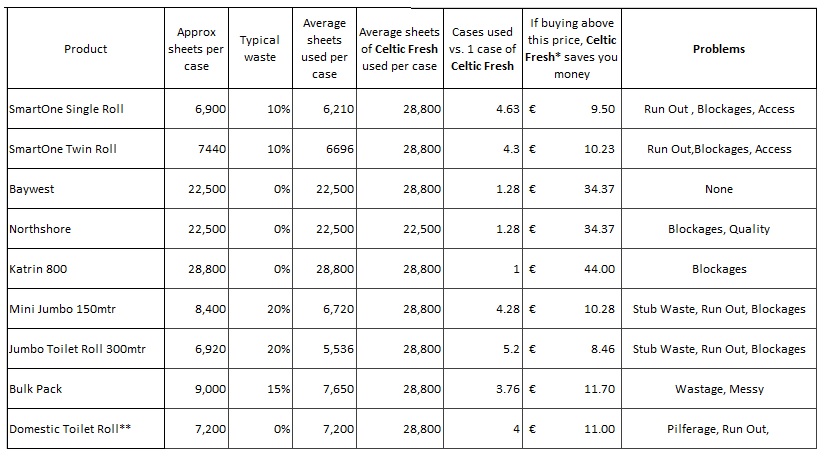 ** Based on the
case of 36 Toilet Rolls.
*
Based on a RRP
of €44.00 and zero wastage |Bigger savings can be achieved when buying in Bulk.
As we use pure virgin tissue in our Eco-Fresh toilet paper it will not block up toilets like recycled paper does.
Send us an email and we will get someone to call out and discuss the savings that can be made.