Thursday 10th May 2018
Your patio and driveway are exposed to a variety of substances that make it unpleasant and dirty to look at. Every homeowner at some point is going to have to clean their patio or driveway to restore it to the pristine condition it was once in. In this blog post we will explain to you what the best way to clean your patio or driveway is as well as the products that we would recommend you use so you can get instant results!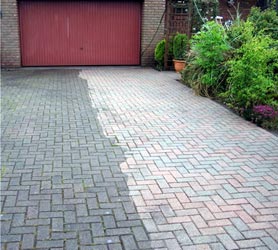 1. Sweep your Patio or Driveway
The first thing that you are going to want to do is to sweep away any sticks, rocks or leaves that may be on your Patio. This will make your life a lot easier as you begin your process of cleaning your patio.
2. Create your Mixed Solution
Now it is time to create your mixed solution that you will use to clean away all of the dirt, stains and grout on your patio. The product that we recommend that you use to see the best results possible instantly is Conclean Brick, Tile and Concrete Cleaner. This is the best product on the market, guaranteed to give you fantastic results everytime! Mix the Conclean solution with water at a 5:1 ratio. Using this solution correctly is guaranteed to be the best way to clean your patio or driveway.
3. Wet the Ground
It is very important that you wet the area that you wish to clean before you begin. This will allow you to get the best results possible and allows the chemical to deep clean and remove oil stains.
4. Brush your Patio Thoroughly
Once you have made your mixed solution it is now time to pour your mixed solution over the area you wish to clean. Be sure to completely cover the area or stain that you wish to clean. Once the solution has been poured out brush the area vigorously. We recommend using a grill brush, a scrub brush or any High Quality Outdoor
Brush. Be sure to allow 20 – 25 minutes for the solution to become in contact with the dirt, stain or grout. Be sure not to allow the solution to dry out, as this will affect results.
5. Rinse Away the Solution
Once the stain or dirt has been removed from the area that you wish to clean rinse it away with water and repeat this process on the next area of patio or driveway that you wish to clean. In exceptional cases repeat the process again if required.
Common Misconceptions
There are quite a lot of tutorials and posts about how to clean your Patio or Driveway using household products such as washing soda, baking soda or even vinegar. However, these products often neglect to tell you they will require multiple applications and this can make cleaning your driveway or patio become a week-long nightmare. The chemicals just simply aren't as effective and nowhere near as strong as traditional Patio and Driveway cleaning products. There are also a lot of misconceptions when it comes to polishing a marble floor, check out our great blog post on this topic where we go into great detail informing you of the best practices when it comes to
maintaining a marble floor
.
Check out our great offer on our
Patio and Driveway Cleaner
!
Share this