Monday 30th November -0001
"How to Remove Chewing Gum"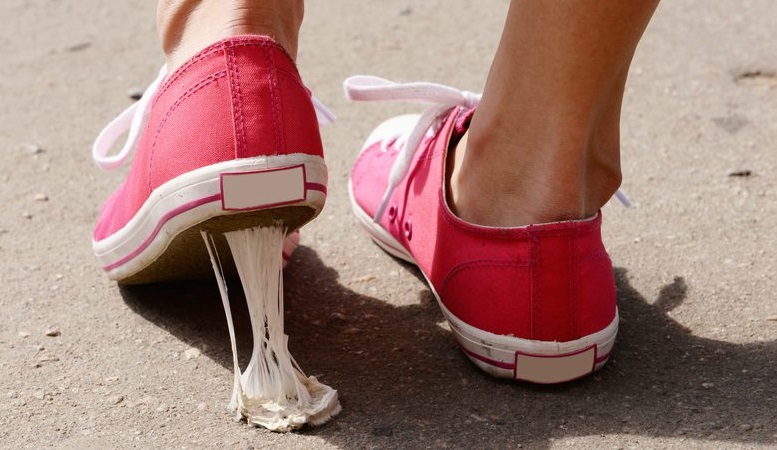 There's nothing worse than discovering a horrible Chewing Gum stain on your freshly cleaned carpet or stuck to the ground outside the front of your house, is there? With everything thing else that is going on in your daily busy life, there's no telling when a gum stain will cross your path. But when it does, don't panic! We offer this handy guide that will help you remove gum from carpet one without having to use chemicals (Eco-Friendly) and other when all else fails.
1. Eco-Friendly Chewing Gum Removal Using Ice and scraping off.
Place a few ice cubes in a zip-lock bag and place on top of the chewing gum. This will harden the gum makes it easier to remove. Leave for approximately 5 min.
Remove the bag of ice.
Once the bag of ice is removed, using a metal spoon or blunt butter knife, scrape off the hardened gum.
When gum has been removed sponge down the area where the gum was with a clean Microfiber Cloth.
Keep blotting with a microfiber cloth until there are no traces of gum left.
2. KKF260 Chewing Gum Remover.

KKF260 Chewing Gum Remover is a fast-acting ready to use powerful gum remover for the easy removal of chewing gum, tar and other sticky substances by freezing the problem substance. It will remove even the most hardened chewing gum, candle wax, play dough, putty, tar and other sticky substances easily.
Chewing Gum Remover works by freezing the chewing gum deposit instantly but not damaging the surrounding area (With Fabrics Check First). Once the Chewing Gum, Tar or Sticky Deposit has been frozen it enables the effective and easy removal of the once sticky substance.
KKF260 Chewing Gum Remover leaves no residues unlike harsh solvent based chemical chewing gum removers. You may find when you remove the Chewing Gum or Sticky substance it has stained your carpet or upholstery in which case we recommend the use of either our Spot Remover or Stain Remover. Chewing Gum Remover is ideal for use in schools, nightclubs, colleges, bars, leisure centre and other public areas.

There is also some more general carpet cleaning tips. Such as using the old methods like The Club Soda Process some people say it doesn't work you need to know the correct way to use it. Shaving Cream it will remove nearly every type of stain you have, you just need to let it sit for 30 minutes when set bolt down with a dry white cloth, Finish by spraying the area with one part vinegar mixed with one part water and then wiping away the solution with a cloth.
Heat Wax burning candles in the house can result in wax dripping onto the carpet, where it quickly dries and gets embedded. We recommend heating it back up to remove it. Place a white cloth over your iron, then put the iron on top of the wax to warm it up. Finally, scrape off the wax with a butter knife.

There is also a link to tell you more about Carpets and the Best way to clean your carpet on our page, just click the link.
If the Chewing Gum leaves a stain we have our own Stain Remover it's a quick, easy and safe to use water soluble stain remover for the removal of stains from Carpets. Pop on to the link to find out more about the product!
Share this