Tuesday 4th September 2018
Tips to buying Garden Sprayers
"Getting the right Garden sprayer for the job"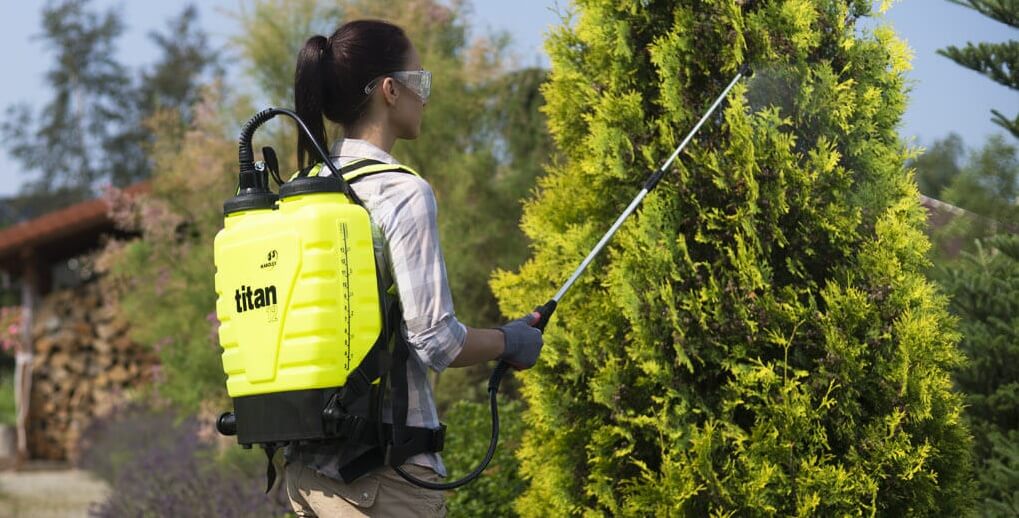 Garden Spraying is often challenging, more so when you have the wrong equipment for the job "A good worker never blames his tools". A hand-held garden sprayer is the most commonly sold type of sprayer for the average gardener and probably the perfect piece of
Garden spraying equipment
for small gardens. There is no training or difficulty using it, its light easily manoeuvrability means it saves you time, effort and money when spraying your garden. But this is only the beginning what happens when chemicals come into the equation or those people that are professional gardeners looking for garden sprayers. This is where the headaches begin garden sprayers are manufactured in different materials, colours, styles, sizes etc. Which doesn't help when selecting a new sprayer?
So don't worry. Below is my pin sticker's guide taking you through the merits and benefits of the different Garden Sprayers available. Hopefully, these tips below will help you make a more informed decision when purchasing your next garden sprayer.
Pump action: Should be solid and dual action with adjustable nozzle action to control flow on, off, mist, or direction options. This is extremely important as it determines the amount of chemical that will be dispensed.
Chemical Resistance: Understand the importance of which chemical will be used, acidic or alkaline. A vital bit of information because the seals need to be compatible with whatever chemical you are using.
Repair and Maintenance: The various nozzles and seals should be easy to strip down, clean and replace if necessary. This is something people overlook when buying cheap garden sprayers as quite often they are not chemical resistant and there are no spare parts available.
Capacity: Will it be sufficient to meet your needs. Is it robust enough to be used in the environment you are purchasing it for? The size of your garden sprayer does matter when looking at capacity. No good bringing a small hand-held sprayer to a park. Once all these things have been evaluated we are now ready for the final stage.
Beside the above points, investment in a quality garden sprayer pays off. It ensures you get good levels of saturation when watering plants and is a vital tool for keeping our gardens pest and weed free, whilst guaranteeing lifetimes usage.
So with that in mind let's look at what's available for amateur and professional gardeners a like.
Hand Held Manual Pressure Sprayers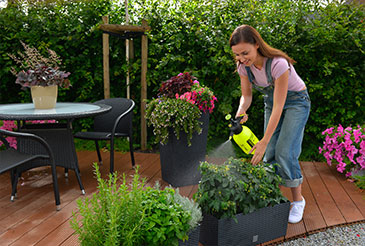 These are for gardeners who don't have a lot of spraying to do; they usually come in sizes from 600cc to 3 litres. They are compact and lightweight the heaviest no more than 3kg when full. All good ones come with mist action, directional spray, dual action spray and a locking trigger to reduce user fatigue. Good garden sprayers are chemical resistant. Gardeners often spray with pesticides and herbicides which are extremely harsh chemicals but even good organic weedkillers can be very harsh as they can have concentrations of over 50% Ascorbic acid not 4% like synthetic table vinegar! That the ill educated call it. Continuous flow is something that once you use there is no going back, with 3D Flex you get continuous operation in all positions.
Good Garden Sprayers have safety valves normally integrated into the head of the garden sprayer as it allows you to control the pressure in the tank of the sprayer. Adjustable nozzles allow different spray angles for hard to access areas and spot treatments.
Back Pack Garden Pressure Sprayers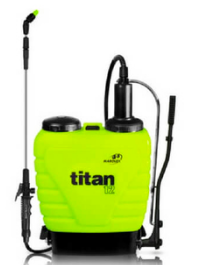 Knapsack Sprayers
are usually the professional gardener's choice when it comes to garden spraying. They will have all the features of the hand sprayers but have a much bigger capacity and are easily transported around. Once fitted for your comfort using the adjustable straps you have the benefit of free hands when needed. They are also ideal for spraying high and low areas without having to stretch or bend your back when spraying. So, in this case, one size really does fit all.
Cart Pressure Sprayer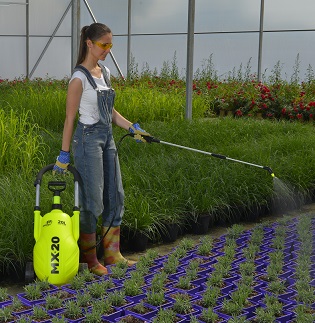 When we start to look at Cart Sprayers we are really getting into the world of professional pressure sprayers in horticulture "Or Lazy" These type of sprayers are available from 12ltr to 20ltr. It is possible to purchase 120ltr cart sprayers but you are getting into trailer mounted towable systems. These large capacity sprayers are ideal for pulling along and spraying without having to carry heavy weights around. They usually come with wide wheels to give stability over rough terrain, along with height adjustable handles for comfortable operation by tall or short people. Always try and make sure your Garden Cart Pressure Sprayer has a built-in lance holder for ease of transportation and storage.
Share this