Share this
Our Blue Microfiber Cleaning Cloth is a heavy duty microfiber cleaning cloth. Suitable for use by professionals in every industry. The Blue Microfiber cloth measures 40cm x 40cm, and each microfiber cloth will machine wash up to 500 times at 90oC.
Product Details and Spec for Blue Microfiber Cloths:
Pack Size: 40x40cm
Quantity: 5 Blue Microfiber Cloths per Pack.
Material: Microfiber and Terry Cloth.
EAN: 5391532650043
Microfiber content 30%: Polyamide 20%, Polyester 10%
Below we have some frequently asked questions about Microfiber Cloths:
Feel Free to Contact us on sales@wipeout.ie if there is not an answer to your question on Microfiber, after all we are the experts.
What is in Microfibre Cloth?
Microfiber is a synthetic fiber less than one denier, a diameter of less than ten micrometers. To put this in perspective microfiber is thinner than the diameter of a standard silk. Silk itself is about 1/5 the diameter of a human hair, so microfiber cloths truly are a microscopic cleaning tool.

Microfiber is a synthetic fabric made fro polyester and nylon strands which as explained are incredibly thin. The microfiber is made through a mechanical action the fibers are split) as shown on the picture.
This is what makes microfiber cloths ideal for trapping dirt and residue whether used dry or wet.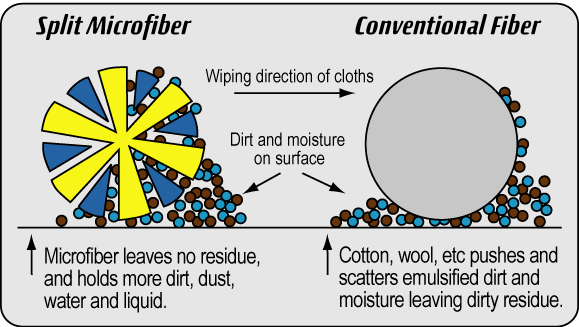 Thanks to this unique structure, microfiber leaning products, such as microfiber cloths and microfiber mops absorb more dirt and bateria than traditional fabrics. This is due to its yarn capillarity and as a result it covers a wilder cleaning area. Microfiber cleaning cloths clean much quicker and less effort, especially when compared to traditional cleaning products fabrics.
Microfiber cleaning cloths trap and absorb even the finest particles of dirt guaranteeing a clean surface, smear and scratch-free, unlike conventional cleaning products.
Microfiber cloths excellent cleaning results are down to those unique very thin microfibers which can penetrate all micropores on all surfaces and remove up to 99.98% of bacteria and fungi truly amazing results for any cleaning products. One of the reasons microfiber cloths are so effective and a much better option than chemicals.
How to clean your microfiber cloth.
For best results , it is recommended to machine wash microfiber cloths at 90oC. Before putting your microfiber cloths in the washing machine rinse thoroughly with cold water, this will remove all excess detergent. You should never use chlorinated products when cleaning microfiber cloths or microfiber mops. It does not matter whether you use bio or non-bio washing powder when laundering microfiber cloths but bio washing powder gives better results. Never Use Bleach or Fabric Softeners in your wash, these will destroy your Microfiber Cloth.
Machine washing ensures all dirt, dust and small microbes that spread bacteria are removed from your microfiber cloth or microfiber mop. Machine washing gives a vigorous agitation of the microfiber cloth, microfiber mop or microfiber towel to ensure the removal of any deep down soiling.
Can I Hand Wash Microfiber Cloths?
People will often hand wash the microfiber cleaning cloths but we do not recommend this method, as it doesn`t clean your microfiber cloths properly. If you really have no alternative than to clean your microfiber cloths than hand then soak in hot water. When the hot water has cooled down use your hands to help agitate the microfiber cloths. This will help release dirt and grime. Then finally rinse well with cold water and allow your microfiber cloth to air-dry.
Are Microfiber Cloths Eco Friendly?
I could very easy sit on the fence here but there are two trials of thought on microfiber cloth been eco-friendly. As explained earlier your microfiber cloth is made from polyester and polyamide fabric strands that are 100 times finer than a human hair. This is what makes microfiber cloth so effective at lifting dirt, grease and dust without the need of aggressive cleaning chemicals. This is an extremely strong argument for microfibers cloth green credentials. Microfiber cloths are reusable washing up to 500 times, surely a better option than clogging the planet with disposable cleaning clots.
However, there is a downside to microfiber cloths they are made from non-renewable resource and do not biodegradable easily. This debate is ongoing as to which is the greater evil. Bambo is now been used in the manufacturing process of microfiber cloths to try and overcome this problem. Some argue microfiber cloth made from polypropylene is recyclable. But this is up to you, the consumer to decide but it really is a good debate.
Microfiber cloths static free?
Microfiber cloths with static dissipative fibres woven into the towel will be static free. Check with your supplier.
Do Microfiber Cloths Kill Germs?
Absolutely! Microfiber cloths may not be a disinfectant but are extremely effective in the removal of germs and bateria from home or business. To do the job right you will need to dampen a microfiber cloth with clean water to effectively clean and disinfect. No need for aggressive chemical cleaning products. A microfiber cloth`s unique weave is what makes microfiber so effective at cleaning and disinfecting.
How Absorbent are Microfiber Cloths?
Microfiber cloths are extremely absorbent they differ from cotton or synthetic cleaning cloths as they have a much larger volume of surface per sq meter. This enables microfiber cleaning cloths to be significantly more absorbent than similar cleaning cloths. It is best to buy the heaviest quality microfiber cloth you can afford i.e. 300gsm opposed to 200gsm.
What does GSM mean when buying Microfiber Cloths?
GSM stands for grams per square meter (g/m2). It measures the density of the microfiber cloth and expressed as GSM. This does not mean a microfiber cloth measuring 40cm x 40cm with a GSM measurement of 500gsm will have a weight of 500g. It means if you had a microfiber cloth with a measurement of a 1-meter square that would weight of 500g. So bear in mind when comparing prices for microfiber cloths GSM is important to compare the size measurement of your microfiber cloth as well. Basically, the higher the GSM the more material is in your microfiber cloth. Resulting in a thicker fabric giving better absorption and cleaning power.