Share this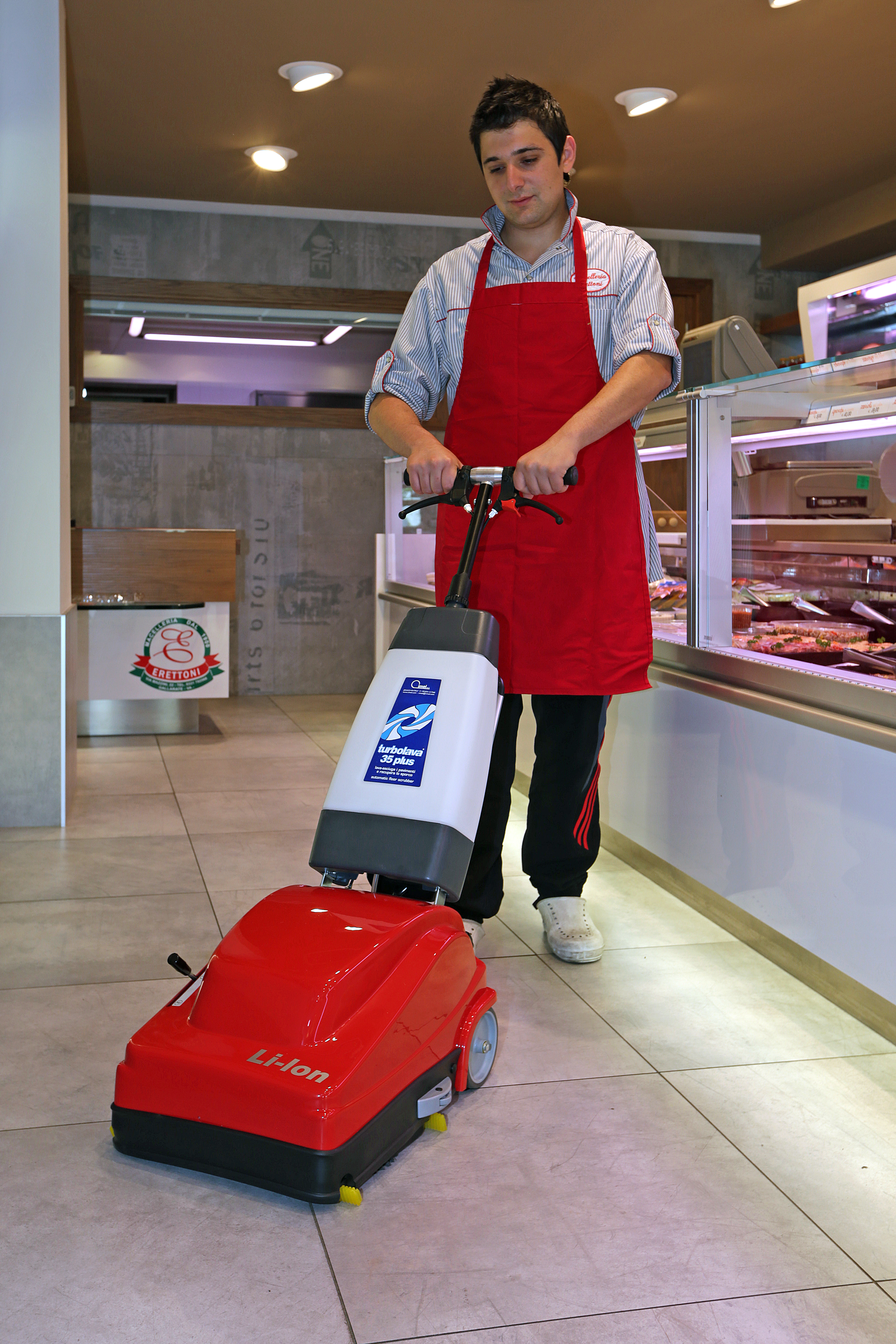 Turbo 350 Plus Automatic Floor Scrubber Machine.
The simple way to clean floors in comfort, just scrub & dry in one single movement going backwards or forwards, no electric cord to get under your feet!
Turbo 350 Plus auto floor cleaning machine is the perfect scrubber dryer for small & medium sized hard floors in a busy congested space. It allows easy navigation between and under tables, desks, appliances or stationary objects where bigger floor cleaning machines cannot clean.
Our Turbo 350 plus floor cleaning scrubber dryer is powered by the latest in lithium-ion battery technology making the Turbo 350 plus floor cleaning machine one of the most compact and lightweight cleaning machines on the market. Thanks to this amazing battery technology there are no cords making it one of the safest floor cleaning machines on the market.
The Turbo 350 plus floor cleaning machines performance makes it the ideal solution both for daily cleaning and scheduled deep cleaning. The lithium-ion battery gives 45 minutes to 1 hour of continuous and constant high velocity usage.
The Turbo 350 plus scrubber dryer comes with lithium-ion batteries that are small, lightweight, suffer no memory effects, easily charged and handled by skilled or unskilled workers. There are two inclined counter rotating brushes that will remove even the most engrained dirt with the minimum of cleaning detergent. Its compact design allows it to get closer to skirting boards. The twin suction squeegees at the front and back of the machine offer an instant clean, safe and dry- floor whether using the machine backwards or forwards.
There is also a wide range of optional brushes and pads of different colours and material available that are quick and easy to install. These vary from aggressive scrubbing on hard industrial floors, non slip-safety floors to soft brushes for vinyl and delicate flooring, specialist brushes for marbles or tiled floors and microfiber or abrasive pads to wash and polish floors, even brushes for carpeting

The Turbo 350 Plus automatic floor scrubber machine is a professional built-to-last machine made from aluminium materials for the base and chassis. It is extremely sturdy, manoeuvrable, light to use and transport, even when carrying up and down stairs

Easy to use, lightweight and compact these features make the Turbo 350 floor scrubber machine the ideal and effective solution to clean any type of flooring in public areas such as restaurants, bars, food shops, fast food, fitness centres, schools, nursing homes and other industries.
Technical Specifications Turbo 350 Plus Scrubber Dryer
Cleaning Capacity: 1000 sqm2/h
Cleaning Width: 35cm
Motor: 40 Volt
Battery: Li-ion: 39.6v 8.6A
Battery Working Time: 1 hour
Battery Charging Time: 3.5 to 4 hours
Battery Weight: 3kg
Machine Weight Nett: 15.4kg without battery
Vacuum System: Triple Fan System
Fan Speed (Vacuum): 10,000 rpm
Depression: 700mm (3.5ft H2 O
Brush's: Two circular brushes with inclined bristles
Brush Speed: 550rpm
Brush Pressure: 13kg
Drying System: Single action (Forward)
Cleaning Tank Capacity: 4ltrs
Waste Tank Capacity: 4ltr
Weight: 19kg
Body Height: 29cm
Height with Handle:
Body Width: 36cm
Body Length: 53cm