Share this
The cling film is ideal for wrapping sandwiches, covering plated food and general food protection. Cling film prevents odour, odour cross contamination and help keep insects out of a package .
Cling film comes in a tamper-proof cutter box with a disposable plastic blade enclosed for ease of use.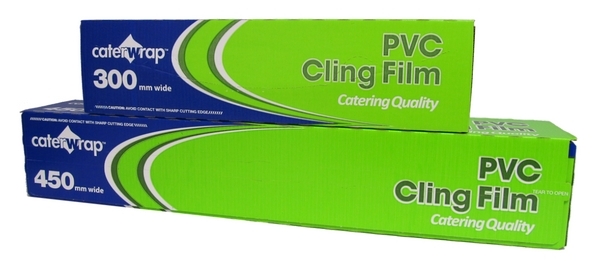 Cling film can be use for:
FRIDGE - Keeps food moist and prevents flavour and odour transfer.
FREEZER - Ideal for separating small items such as fish, chops, steaks, burgers, cakes, etc. before overwrapping into storage bags or boxes, so they can be removed individually.
MICROWAVE - can be used for covering containers and reheating plated meals. Should not come into direct contact with food during cooking or be used for lining dishes. For best results place film over container, piece or turn back corner of film to allow steam to escape.
Important:
Not suitable for wrapping pure fat (lard) and oil or foods preserved in an oily medium.
Store cling film in cool, dry conditions (15oC - 20oC) away from sunlight.
Do not store near anything which has a strong odour.
Do not use in conventional or combination ovens or microwave browing units.
Size: 450mm wide x 300m
also available: 300mm wide