Share this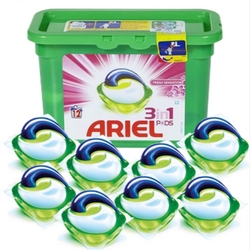 Ariel 3in1 pods are innovated three compartments washing capsules. Its multi-compartment design keep ingredients separate until they reach the water. Ariel 3in1 pods ingredients work together to clean, remove stains and brighten clothes. The capsules film quickly and completely dissolves in water.
Using Ariel 3in1 washing capsules you don't need to worry about dosing. Each Ariel 3in1 capsule has the right amount of detergents to provide excellent results without spending time measuring out the right dose.
Ariel 3in1 washing pods give your clothes fresh look and removes both visible and invisible stains in one wash.
Case: 6x12pods